Keeping the name alive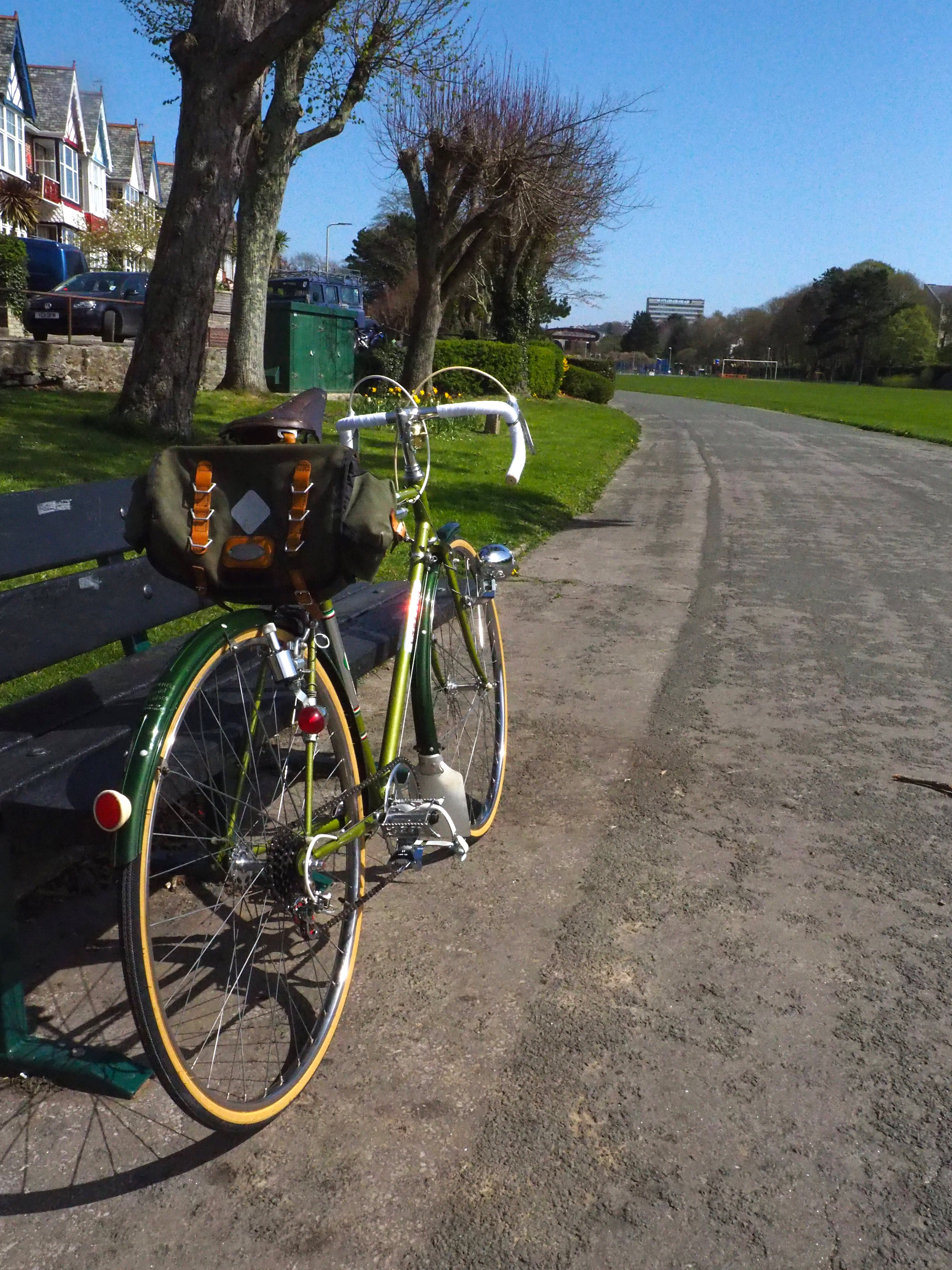 Carlton Continental c1973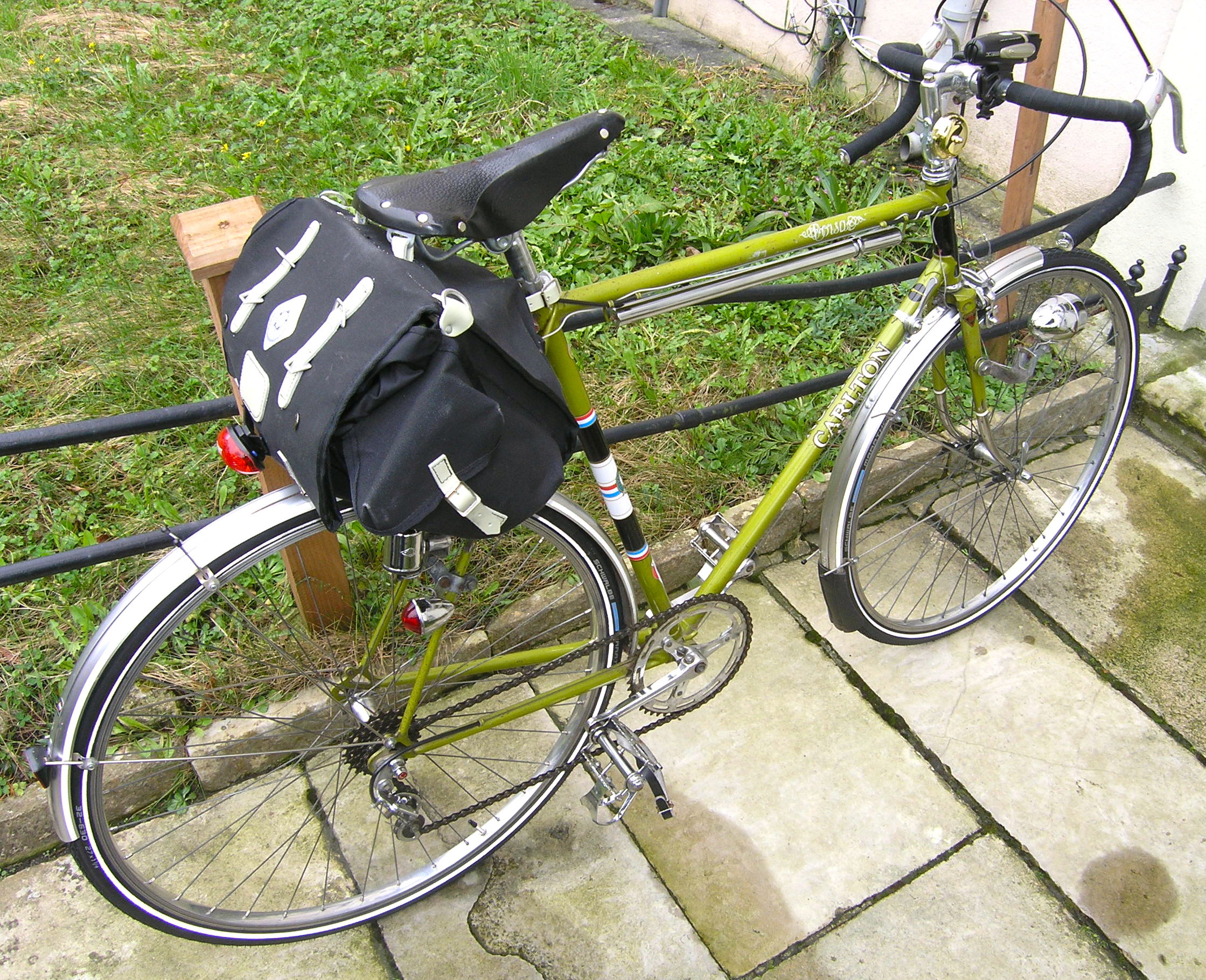 A lovely 23" Corsa from 1975 complete with many extras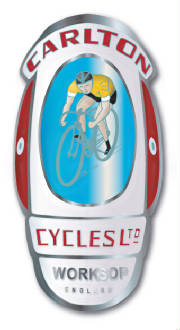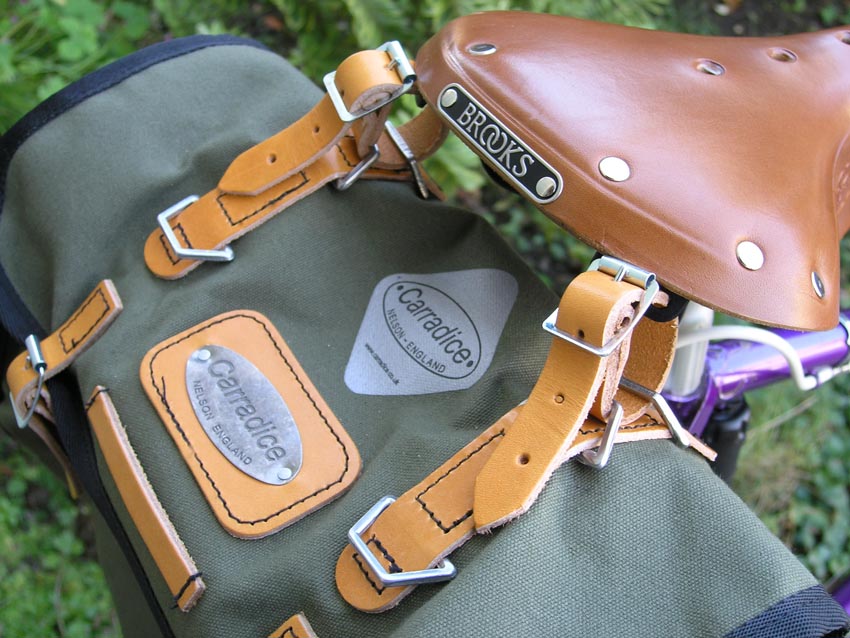 A Brooks B17 standard in honey finish with matching Carradice bag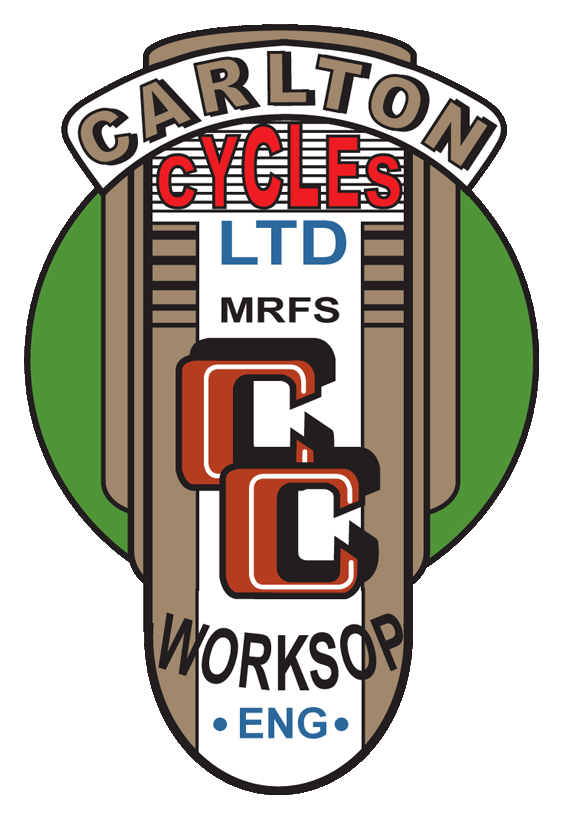 Headbadge circa late 30s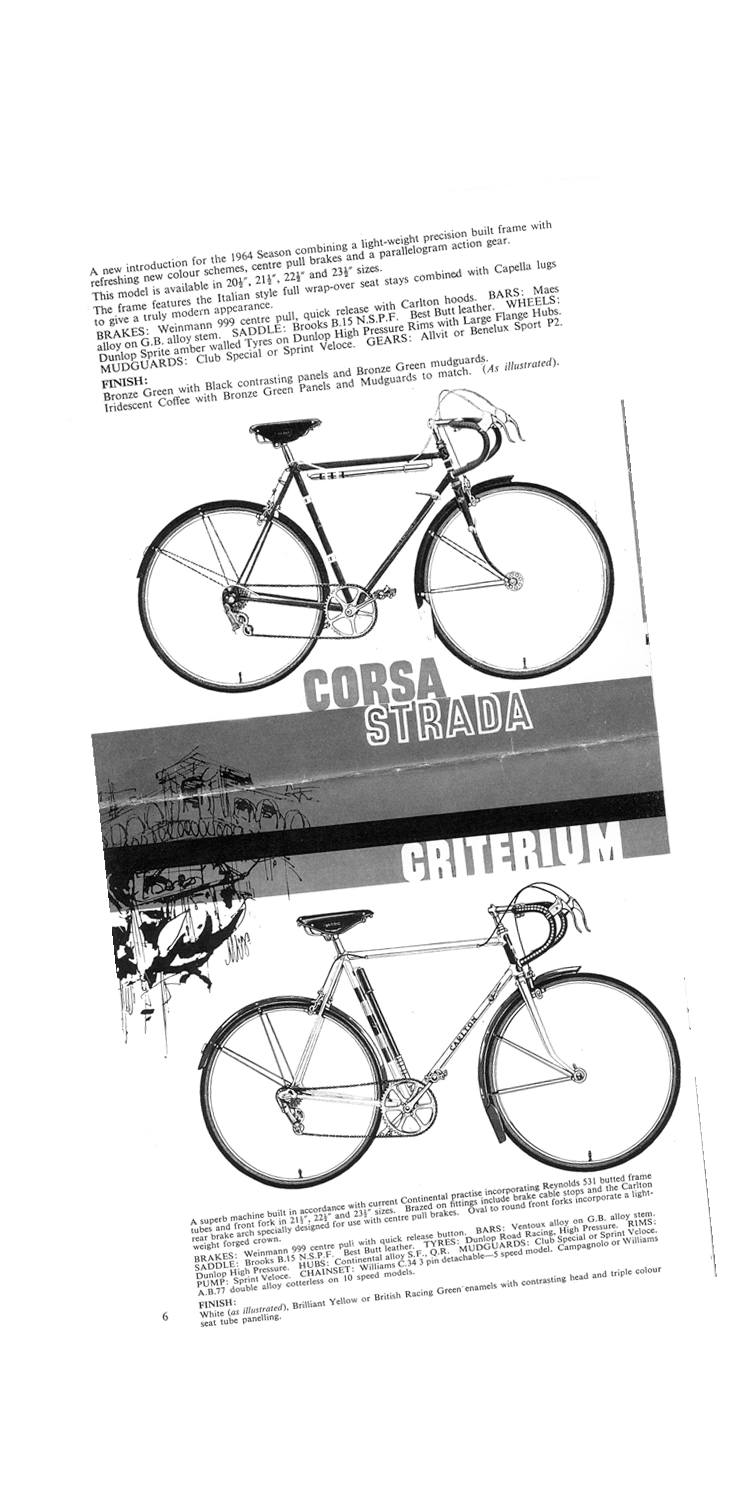 This Carlton Flyer was a renovation carried out during 2005. It had been purchased as a frame and forks only. The frame (22-1/2') had been restored at some point in its life and finished in a beautiful flamboyant purple - too good to respray. The parts are a mixture of new old stock, old stock (from my shed!) and new parts. The frame is made from Reynolds 531 throughout, coupled with Carlton lugs and Campag drop outs, groupset is Campagnolo - Gran Sport rear derailleur, Gran Sport levers, Gran Sport head-set, Gran Sport pedals with alloy Campag toeclips, a 2005 Veloce 42/52 chainwheel, Gran Sport hubs with quick-release units. Wheels are alloy Wolbers with DB stainless spokes. Brakes have now been 'upgraded' to Coureur '66s', replacing the initial '88s'. Saddle is a Brooks B17 in honey. Decals were supplied by Nick at Lloyds of Penrith. Finishing touches were a NOS headbadge from my own collection and a Carradice saddle bag in green with honey straps. The Flyer was very much a higher end customer specified cycle, therefore paint finishes, drop outs, lugs and fork rakes could all be specified at the time of ordering - those were the days!!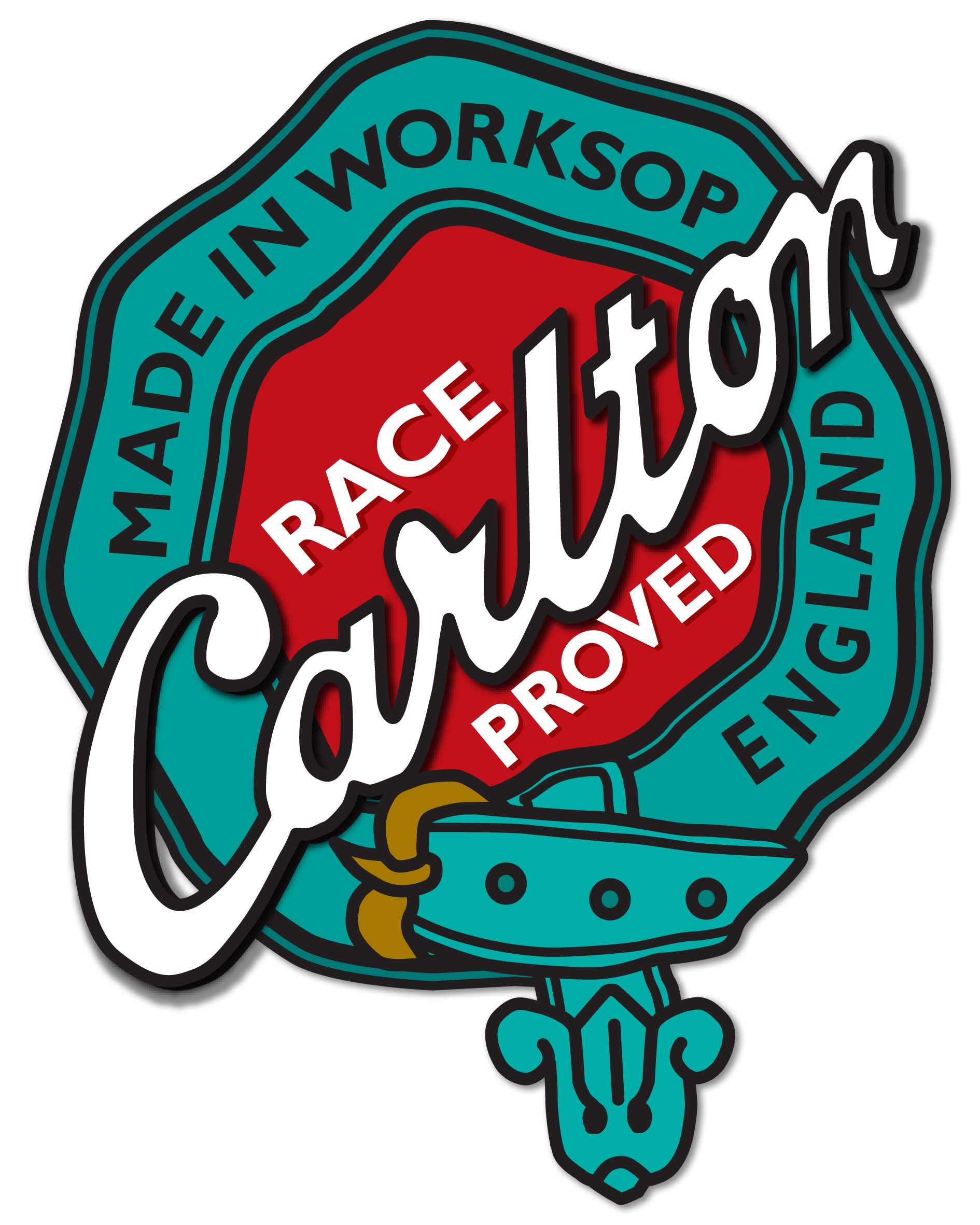 Amongst my collection I have 22" Corsa which dates from 1975, is fitted with quick-release Weimann satin alloy wheels and NOS Bluemels 'Popular' mudgaurds. This cycle is now equipped with a Campagnolo Nuovo Gran Sport rear mechanism coupled with a 52-tooth 3 pin detachable chainwheel and a more forgiving 28-tooth rear free wheel, the bike has been kept as light as possible.
The Continental used to be my travel to work cycle, because of the hilly nature of Plymouth and the large amount of luggage I carry on the bike some days, I had fitted the cycle with Shimano megarange gear - in conjunction with a 34-tooth, six-speed free wheel to combat the hills! This is controlled by Shimano 600 levers, with early index control. I have had this cycle since the early 1970s - it is very reliable and quick.
The 23" Corsa pictured here was an excellent ebay find. It is totally original throughout save for some Bluemels luxury gaurds, one or two new bolts, saddle bag and a new rear wheel. The cycle has been kept deliberately simple and is equipped with Huret 5-speed gears, the rear free-wheel is a 22 tooth affair - makes for a fast, if somewhat tough peddle up hills! This example dates from August 1975. This fine machine also has the added benefit of a NOS Miller dynamo, as it is occaisionally used for commuting to work.