Corgi Rocket Mercury XR7s - the red one from the rare 007 OHMSS set
Corgi Rockets were introduced in 1970, it was Corgis response to the run away success of Hot Wheels. They were only made for two years as they were not a commercial success. The range was better made than HW, the designs were true to the real cars, captured perfectly the movers and shakers of the time, HW just seemed to produce US hot rods and muscle cars. In my view these 'jewel like' cars were just brilliant, I was 9 when I got my first Corgi Rockets set - A Grand Canyon Speedset, was I chuffed! . . . cool parents or what!
The cars themselves were a perfect snap shot of the time - the Aston DBS - my all time favourite, the Escort, Capri, Alfa Carabo, Cougar and Morgan to name just a few. The removeable chassis was a brave idea - if somewhat fiddly. Today some of these cars are worth hundreds, the James Bond OHMSS set, boxed, is worth thousands. They are highly sought after.
Corgi Juniors were initially called Husky, then like Matchbox they aquired whizz (Superfast) wheels and the rest is history. Many Juniors had the same castings as their Rockets cousins, albeit with different coloured bodies and bases. Juniors along with Rockets are my die cast car speciality, collecting the same model from both ranges is one of the main thrusts of my collecting strategy for these cars as well as know (or unknown!) variations. Needless to say it can work out expensive these days!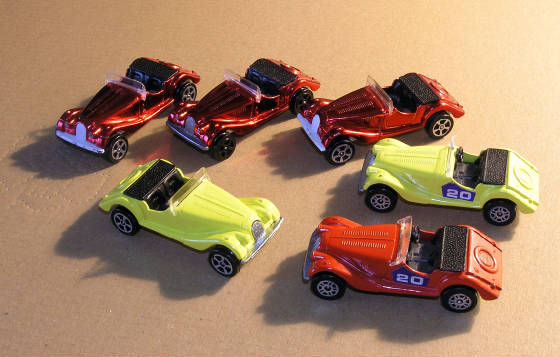 Corgi Rocket and Juniors Morgan +8s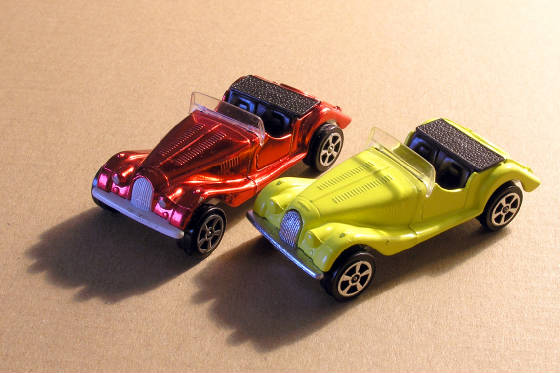 Morgan plus 8s - Corgi Rockets and Juniors