Leaflet details
The leaflets illustrated here were all given away with engine when new and were an ideal way of promoting the Mamod range to new or existing owners. Today they are a valuable source of information, giving the range details and specifications of the engines of the time. Subtle variations in the illustrations provide vital clues as to the dates of each leaflet, in many cases the line illustrations were redrawn in part to reflect the gradual changes in the construction and design of the steam engines depicted.
Leaflet sizes
4 panel two colour:
6 panel two colour:
Retailers brochure: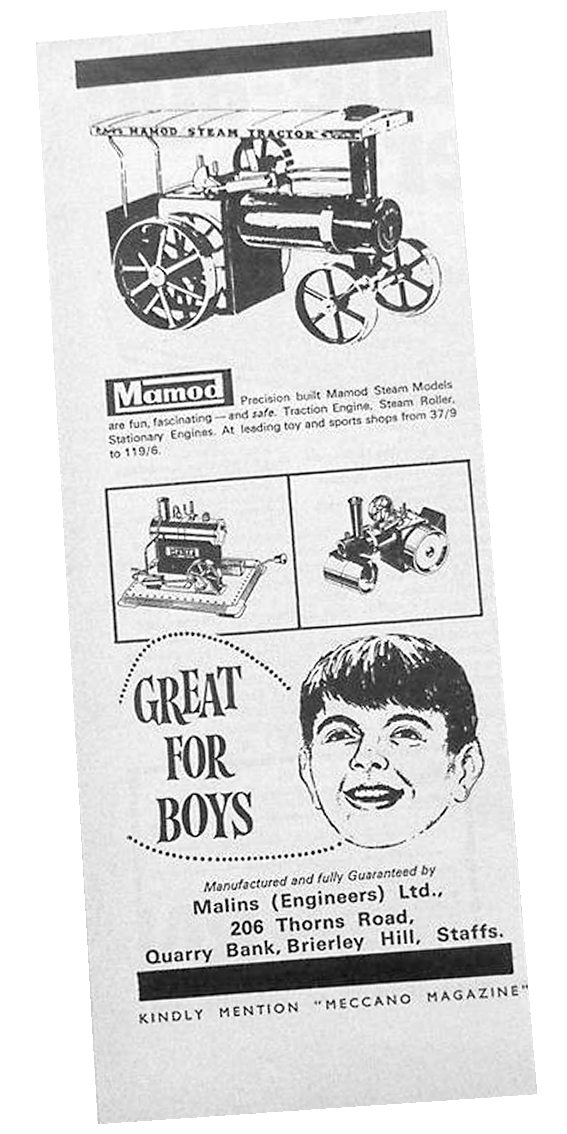 An ad placed in the Meccano magazine c1967


Up until about 1972/3, around the introduction of the SW1 all the leaflets were printed in two colours: black and warm red. From 1973 on full colour printing was employed which really showed of the range to great effect. The charming line illustrations of the previous era publications were replaced with full colour photographs which showed the quality and finish of the range. The two colour leaflets are quite rare now, occaisionally they turn up at the bottom of a box or similar - all are well worth keeping. Look out for the larger promotional brochure produced for the retailers - the larger two colour example here has the most beautiful line and tone illustrations.