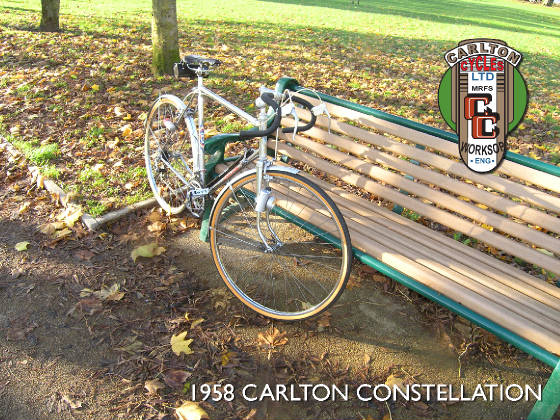 This fine machine was acquired in July 2010. The cycle was purchased by the webmaster from a gentleman in Kettering, Northhamptonshire. The cycle had previously been owned by the gents grandfather, which he purchased secondhand in 1963 for time trialling. The bike was 5 years old then!
A quick view of the cycle reveals that it has a 23" frame, all chrome and uses Lindrick lugs (so named after Lindrick-in-Carlton, where the Carlton Cycle company got its name). The frame uses Cyclo drop outs and has brazed on gear and brake fittings.
Equipment on the bike includes Cyclo Benelux gears (MK7 on the rear, rod changer on the front), GB Sport MKIII brakes, GB Hiduminium stem and bars with GB hooded levers. Saddle was a Lycett Swallow - standard fitment to Carton cycles of this period, a period Brooks Swallow has now been fitted. Finally it has half step gearing and is equipped with a Williams chainwheel running 46/49 teeth. Bottom bracket and headset are by TD Cross.
For its age the machine is in remarkable condition. That said a new pair of Michelin World Tours have been fitted, along with new brake blocks and new decals. Chrome work on the stunning frame is in good condition, the forks having been re-chromed by the former owner in 1999.
So there we have it a remarkable survivor from an age when quality British cycles were the norm and the Clubman had a superb choice of top quality mounts to choose from.