Keeping the Carlton and Sun names alive
Carlton cycles have been a part of my life since I was a kid. I got my first Carlton - a Continental, secondhand in 1976, that bike was 3 years old then, I still have it now and regularly use it for cycling to work.
This wonderful old company was finally killed off (along with Raleigh's racing credibility and several hundred jobs) by the idiots in the backroom at Raleigh in the early 1980s, when it was seen as diluting the Raleigh brand - by then the marque had gone from largely handbuilt jewels to run-of-the-mill Carlton-badged Raleigh mediocraty. In the US all the top end Carltons were marketed as Raleigh, albeit with a small acknowedgement in the form of a decal with the Carlton name on it. The way this once top level marque was ended is sad and marks one of the lowest points in Raleigh history in my opinion. In the days when Britain had a proud and thriving bicycle manufacturing history the Carlton rider could hold his head up high along side the very best such as Hetchins, Guillot, or continental marques such as Rene Hearse or any of the top makers of the era.
As a result of my interest in the web and ebay! I have been able to update and extend my collection whilst preserving and restoring these classic cycles. All the cycles in my ownership are ridden - none of them are 'museum' pieces. Classics like these are now becoming a very rare sight on our roads, although technically 'inferior' to today carbon/titanium clones - they win hands down on looks and aesthetics as well as sheer quality in terms of build, above all they are a pleasure to ride. These cycles always turn heads when ridden, will todays stuff be around in 30-40 years time?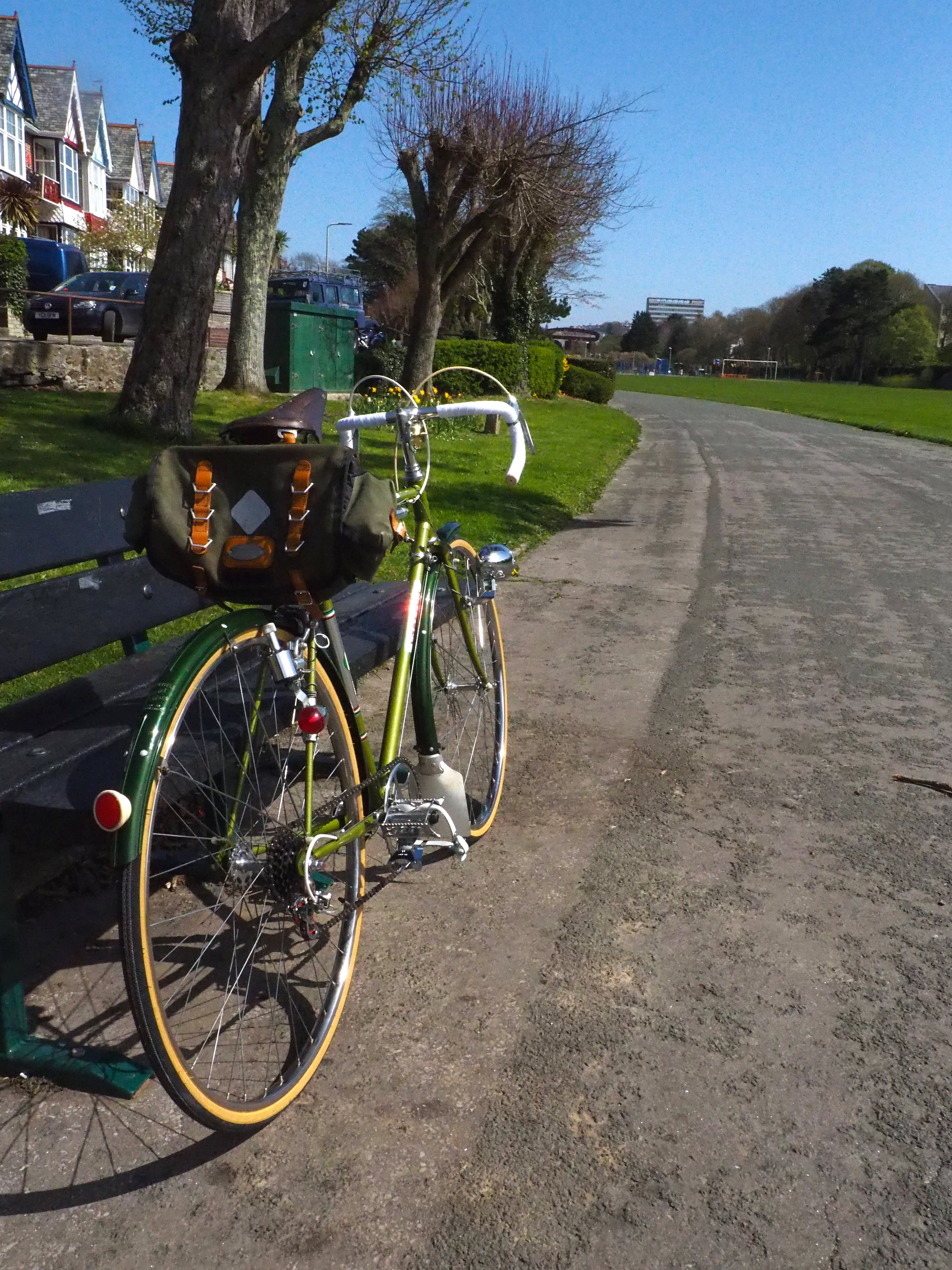 Carlton Continental c1973
23
A short video giving an overview on the Flyer
The Carlton Flyer was a renovation carried out during 2005. It had been purchased as a frame and forks only. The frame (22-1/2') had been restored at some point in its life and finished in a beautiful flamboyant purple - too good to respray. The parts are a mixture of new old stock, old stock (from my shed!) and new parts. The frame is made from
Reynolds 531 throughout, coupled with Carlton lugs and Campag drop outs, groupset is Campagnolo - Gran Sport rear derailleur, Gran Sport levers, Gran Sport head-set, Gran Sport pedals with alloy Campag toeclips, a 2005 Veloce 39/53 chainwheel, Milremo hubs with quick-release units. Wheels are alloy Wolbers with DB stainless spokes. Brakes have now been 'upgraded' to Coureur '66s', replacing the initial '88s'. Saddle is a Brooks B17 in honey. Decals were supplied by Nick at Lloyds of Penrith. Finishing touches were a NOS headbadge from my own collection and a Carradice saddle bag in green with honey straps. The Flyer was very much a higher end customer specified cycle, therefore paint finishes, drop outs, lugs and fork rakes could all be specified at the time of ordering - those were the days!!
The Continental used to be my travel to work cycle, because of the hilly nature of Plymouth and the large amount of luggage I carry on the bike some days, I had fitted the cycle with Huret Duopar Eco gear - in conjunction with a 28-tooth, six-speed free wheel to combat the hills! This is controlled by Shimano 600 levers, with early index control. I have had this cycle since the early 1970s - it is very reliable and quick.
The 23-1/2" Corsa pictured here was an excellent ebay find. It is totally original throughout save for some SKS gaurds and new RM 19 wheels. The cycle has been converted to a Stronglight triple up front, and is equipped with Shimano 18-speed gears, the rear free-wheel is a 34 tooth affair - makes for more comfortable peddle up hills! This example dates from August 1975. This fine machine also has the added benefit of a NOS Miller dynamo, as it is occaisionally used for commuting to work.